Beach Tree Service, Orange County, California
Beach Cities Leading Expert in Tree Services!
Serving Orange County Beach Cities! 
Have trees that need to be trimmed or removed? 
We're the team you can trust for all your Beach Tree Service needs! 
✅ Satisfying Customers Since 2015
✅ Locally Owned & Operated
✅ Licensed & Insured
✅ Fair and Reasonable Price
✅ Workmanship Guaranteed
Ready to talk with a Tree Service consultant?
Provide your contact info and a consultant will be in touch within 24 hrs.
WHY SHOULD YOU CHOOSE BEACH TREE SERVICE?
We are a tree services contractor serving the Orange County Beach Cities!
By working with our tree care experts, you can expect straightforward answers and honest responses. We are beach cities locals and proud of the work we do. Our priority is taking care of our beach cities community. 
If you aren't 100% satisfied with the work we do, we'll do whatever we can to make it right. We are licensed and insured, so you won't have any need to worry about the work we do.
We offer almost any tree services you may need from simple removal to maintenance and grooming to unexpected emergency removal. Our team understands the importance of trees to the natural environment as well as how to properly treat and, if need be, remove a tree that may cause more problems if left in place. Beach Tree Service is ready to help with all your tree related challenges and needs.
Some of our services, including but not limited to: 
✅ Tree Removal 
✅ Tree Trimming
✅ Stump Removal
✅ Tree Doctor 
✅ Emergency Tree Removal
✅ Tree Pruning 
✅ Tree Cabling & Bracing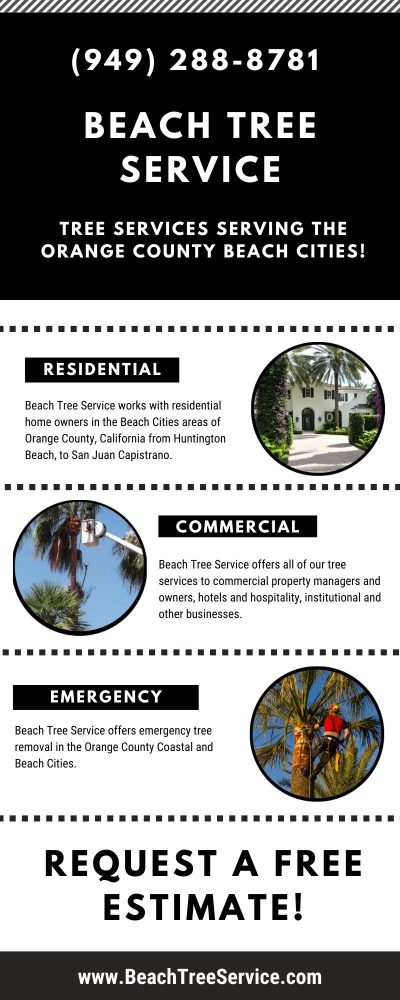 QUALITY TREE SERVICE SOLUTIONS
Residential Tree Service
Beach Tree Service works with residential home owners in the Beach Cities areas of Orange County, California from Huntington Beach, to San Juan Capistrano. 
Commercial Tree Service
Beach Tree Service offers all of our tree services to commercial property managers and owners, hotels and hospitality, institutional and other businesses. 
Dedicated to delivering expert tree maintenance in the Orange County Beach area for many years, our skilled team at Beach Tree Service provides a comprehensive list of tree services. We serve busy home and business owners, offering outstanding cost and customer service. Save yourself the effort and expense of DIY tree care by entrusting our professionals, who combine expertise and experience to achieve superior results. Contact us to discover how we can address your tree care needs.
Tree Removal
One of the most common and potentially difficult jobs is tree removal services. As a licensed and fully accredited service operating in the Orange County Beach Cities, we have skills, equipment, and experience to remove any trees our clients wish to have removed while doing so efficiently and safely for everyone involved. We pride ourselves on delivering top-quality workmanship and customer service. We are dedicated and we're available 24/7 for emergency needs!
Call us for your quote or call us and we'll give you a full cost analysis and estimated time frame, absolutely free!
Why Call Beach Tree Service?
As any homeowner with beautiful trees in their yard will tell you, trees are both amazingly beautiful, magnificent, and can require a lot of care and attention to maintain. For this reason, it's important to hire a professional and qualified tree service to handle your tree service needs. From grooming and maintenance of trees, to removing them, replanting them, or to simply removing previously present stumps, we do it all with efficiency and safety as top priorities. Our team understands that your time is valuable, so we are here to serve you and all your tree needs!
Not only are we fully qualified and experienced in the field of tree servicing and tree removal, but we are also:
Affordable and fairly priced! We charge only for the work that is required and completed and nothing else.
We're licensed, insured and bonded, meaning that our customers are protected in case an unfortunate accident should occur. We train our crews to follow strict safety guidelines and we do whatever it takes to protect your personal property and our crews.
Despite their magnificent beauty, trees can pose a simple and undetectable issue to some homes many people don't realize. For example, in the case of trees growing too close to a home or other structure, the tree roots may put pressure on the foundation or other structural components of the home, which will compromise the home's integrity and lead to significant damages. In these extreme cases, tree removal can become critical to preventing further damage, while correcting the situation can require an approach the should only be attempted by experts.
Residential & Commercial Tree Services
What Are The Benefits Of Using Beach Tree Service?
Beyond a more beautiful landscape of well-maintained trees, Beach Tree Service can act as a tree doctor, treating and grooming your trees in a way that removes what is not needed to help the tree grow and decrease the risk of damage to your home by falling branches or palm fronds.
Additional benefits include an understanding or tree placement and the potential damages that may be caused as a result. For example, any low hanging branches can drop leaves or other debris into your neighbor's property or branches can get damaged in storms or due to age and eventually break off, which can create security risks or even decrease your property value in certain situations. 
Tree Cabling & Bracing 
Tree Cabling & Bracing is a service that is often highly undervalued in many places. With specific types of trees growing in certain soils tree cabling and bracing can drastically decrease the risk of damage in case of an emergency or excessive winds due to storms. Bracing, cabling, and professionally tying the tree and branches increase the stability of the tree while also adding additional support to reduce the risk of collapse in extreme circumstances. Cabling and bracing can provide more important time to react and get to safety, protect your home, and also make it easier, cheaper, and safer to take the tree down if that becomes necessary. 
Call us today for a free quote! You can contact us by call or submitting your information in the webform. 
Need a closer inspection? We'll send out one of our trusted tree experts to examine and determine the cost and strategy to take the best care of your trees.
Stump Removal & Cutting 
Stumps are great to have when you're sitting by a campfire, but they aren't so welcome in the middle of a garden or open area of your yard. At Beach Tree Service, we have the equipment needed to safely, quickly, and efficiently remove tree stumps by either grinding them down or completely removing them without any danger or other issues all at an affordable price. You no longer need to be annoyed by that old tree stump in your yard. Call us today and we'll be more than willing to help assist you in its removal!
Emergency Tree Removal
Beach Tree Service offers emergency tree removal in the Orange County Coastal and Beach Cities. 
Do you have a situation involving a tree that needs immediate removal? 
Has a tree collapsed during a heavy storm or due to severe damage by other means? 
Call us and we'll have our experienced team out to quickly assist you in its removal!
Contact Us Today
Beach Tree Service is a tree service company operating primarily in the Orange County, California Beach Cities. We are dedicated to helping all of our clients with tree services whether big or small. From tree removal or emergency tree removal, we work hard to deliver the best tree service and customer service possible. Work with us and never regret it!
Beach Cities Tree Service
At Beach Tree Service, we are committed to the safety of our customers and crews! We strive to create the safest working environment possible with a goal of zero workplace accidents. Safety is at the core of our company culture and we depend on everyone on our team to ensure that every worker goes home safely after every job.
Our success relies on a foundation of customer service and building long-term relationships in our community. Beach Tree Service is honored to have earned the loyalty of our customers by caring about the results of the work that we do. This fundamental philosophy is encouraged throughout our company culture. 
At Beach Tree Service, we understand that our integrity is fundamental to our business! We work with all of our teams to create amazing results for our clients and the communities we serve. Our integrity is based upon honesty, fairness, and accountability at all times in every project we complete. 
Ready to talk with a Tree Service consultant?
Provide your contact info and a consultant will be in touch within 24 hrs.
BEACH TREE SERVICE PROUDLY SERVES THE FOLLOWING AREAS OF THE ORANGE COUNTY COAST WITH A COMMITMENT TO SUPERIOR SERVICE:
Call for quotes and bid submissions
We pride ourselves on our reputation as The Best Tree Service Contractor in the Beach Cities or Orange County, California!